Mixing and Blending is an important part of Powder handling and Processing, which is often neglected.

Mixing is the process of thoroughly combining different materials to produce a homogenous product." The mixture is generally a combination of dissimilar materials, e.g. coal ash and cement are blended in a specified ratio to produce Pozzocrete Cement. In other cases, a chemically homogenous material may be mixed to produce a uniform lot of a desired weight/volume with consistent particle size distribution, color, texture, and other required attributes.

Kleenair offers a complete selection of process related solutions, specializing in the manufacturing of industrial mixers, paddle & ribbon blenders for many different commercial and industrial applications. Dedicated to high quality, reliable and long lasting products, our goal is to provide industrial mixing equipment that meet the specific needs of our customers. Our uniquely comprehensive range of products and services allow us to offer completely customized solutions for
Food industry

Feed industry

Chemical industry

Building industry

Environmental

Dairy powders
Flour/bakery mixes
Frozen vegetables
Instant drinks/soups
Spices
Flours

Animal feed
Mineral premixes
Aqua/fish feed
Petfood

Pigment
Dyestuff
Chemicals
Pesticides / Fertilisers
Explosives
Detergent

Mixing of various cement additives
Fly ash with cement and other additives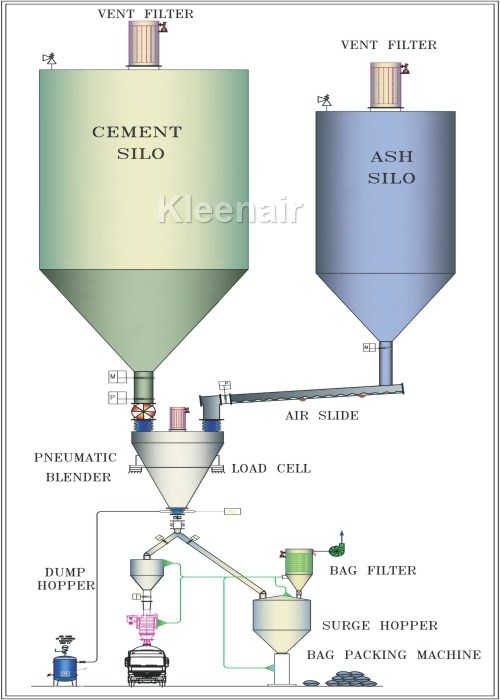 Kleenair specializes in design and supply of Mixer and Blenders for Solid-solid , Solid-liquid mixers.
The twin shaft paddle type intensive mixers, mixes the product in most homogeneous manner irrespective of variations in bulk density, particle sizes and quantities. The specially designed paddles when rotating creates a bubbling bed where new surfaces of materials gets exposed to achieve a uniform mix in shortest possible time.

This action also helps to mix liquids additives in small proportions in the solid without agglomeration.
The specialized discharge arrangement at bottom ensures that entire material is discharged.
The top door arrangement can be made suitable to ensure that no material is left inside the mixer making it suitable for food /pharma /chemicals / bakery products.
Ribbon Blender is a light duty blender, useful for easy mixing powder components it is a LOW SHEAR Mixer, most commonly used for SOLID/SOLID, SOLID/LIQUID Mixing and when high shearing force is not required. Its counter flow helicoids flight mounted on shaft ensuring gentle mixing.
Blades are designed for triple action mixing to suit product end characteristics. It also occupies less head room space for large volume mixing.

Features of Kleenair Ribbon Blender
Very Short mixing time
Capacity available from 100 liters to 10000 liters
Uniform / Homogeneous mixing of the products
Low Power consumption
Suitable design available to handle friable dust to minimize product degradation and dust generation
Very low fraction of ingredients in large quantity also mixed homogeneously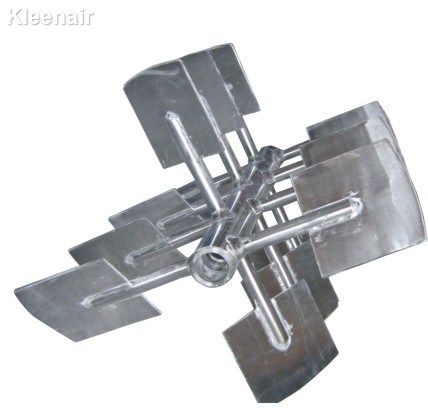 Air Blenders
Air blenders are one of the most efficient ,fastest and also cleanest method of powders blending to achive a uniform and homogenous product mix.
It is most suitable for abrasive materials ,fine powders ,granular materials so also light and fluffy materials.
The blender comprises of air pulsing valves which provides the small air pulses to the materials through various angles making them fluidized & lift upward to get mixed. The baffles provided in the chamber ensures that material are mixed thoroughly. The uniformity in blending is achieved by variation in compressed air flow, pressure and intensity of pulsing.
The important feature is minimal working part and hence negligible maintainance.
Provides quick blending with control, virtually no maintainance ,cleanliness operation process,
Available in stainless steel MOC in dairy finish ,Sanitary finish or quick clean construction with CIP nozzles.

Continuous Paddle Mixers

Kleenair offer paddle mixers to mix two/three ingredients on continuous basis. These mixers are suitable for direct addition of liquid to powders .
The blending time and quality can be controlled by offering various designs of paddles ,their backward or forward motion and also the speed.
These mixers are also ideal for mixing powders in the cake ,during feed of cake to driers. The moisture in the cake is can be brought down by adding dry powder to cake to get a friable cake suitable for drying operation.
These mixers are also used as coolers/heaters for powders by providing external jackets and by circulating water thru the shaft & paddles.
Available in varied sizes and material of construction.